Wavegrinder Surfboard Fins, The Fin With Winglets – Home
Wavegrinder Surfboard Fins makes a patented surfboard fin with winglets.  But winglets aren't the only feature that makes this surfboard fin different; it has several high-lift, low drag features that combine to give you better turning, more "pop," and more fun.
Looking for more speed? Want more maneuverability, and quicker turns? Want greater adjustability so you can change gears if you feel like it? Or do you just want to catch more waves? Want to give an old board new life? Well, look no further.
We designed the Wavegrinder surfboard fin to do all of these things for your longboard, shortboard and SUP.
Wavegrinder Story Video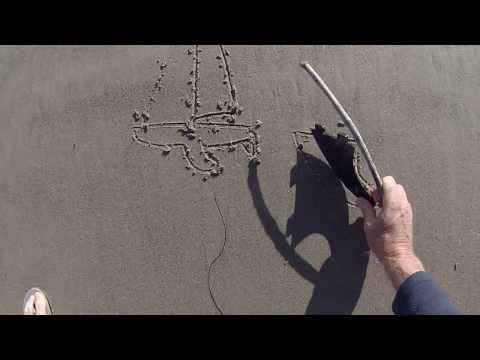 Wavegrinder Surfboard Fin With Winglets, Design Concept
The Wavegrinder surfboard fin with winglets is not magic. And it's not a gimmick. It's based on solid science.  Read more about surfboard fin science.
Ever paddle like crazy to catch a great wave, but instead end up watching it slide by underneath you, feeling like you missed it by a half stroke?  Have you ever done a sharp cutback, only to lose the wave because your tail sinks in?
Well, probably you are experiencing a surfboard fin with lots of drag.  Or you might have a fin that stalls prematurely because you turned beyond the fin's capacity to keep the smooth flow of water on both sides of the fin. That smooth flow of water is called laminar flow.  See surfboard fin science.
The Wavegrinder surfboard fin with winglets was created with a reductionist philosophy in mind.  If you have enough fin to turn as you'd like, to go where you want to go, everything more than just enough is excess drag.  So why have a fin bigger than you need it?
Excess drag  slows you down, hurts your turning ability, and makes it harder to paddle or harder to catch waves.  So if you're out there competing with others for the same wave, wouldn't it be nice to be able to paddle a bit faster than the next surfer, and catch the wave?  We figured we'd decrease the surface area of this fin, so that you're pulling less through the water, yet still have enough size to turn well.
The Wavegrinder surfboard fin with winglets does not simply take an old design and plop winglets onto it.  Instead, we started from scratch, made a smaller than average upright fin after long study of lift and drag principles, and came up with the fin with winglets that is a bit smaller in surface area (less drag) yet behaves like a larger fin (high lift).  See post about surfboard fin lift, drag, "hold" and "drive."
The Story Behind the Wavegrinder Fin
The Wavegrinder fin with winglets is the product of a summer-small-wave day in Southern California.  There wasn't much surfing in the summer mush.  What wave I could catch were few and far between, and the paddling to get on them was tough.  I started thinking about drag, and about keel design in sailboats, how surfboard fins pretty much look like yesterday's sailboat keels.  The surfboard fins I had on my board looked pretty much like those on my board in 1984.  I started wondering why airplane wings, sailboat keels, spaceships and race car spoilers have changed so much since then, but surfboard fins had stayed pretty much the same.  I wondered why. 
I wondered whether we could push the sport of surfing into this century by using the lessons learned in airplanes and boat keels.  The physics is substantially the same for air and water–both are fluids. I wondered why nobody else had done this.
I started what was a couple of years worth of research and development.  I used my background in sailing and naval architecture, combined it with my knowledge of physics, and tried to figure out a good surfboard fin design.  I started from scratch.  I didn't take an existing fin profile and plop wings onto it.  That would be a mistake, I knew, because that's what some sailors had done to their keels, which was counterproductive.  You can't just add wing or winglets; that just adds area and drag.  The trick, I knew, would be to find the right balance between the surfboard fin area and the winglets' area.
In sailing, the Aussies took the America's Cup in 1983.  It was the first time that the U.S. had been beaten, ever, in the 132-years history of those races.    I had been part of the team in 1982.  Although I was disappointed in my team's performance, I knew that the Aussies had done us a favor–they had pushed the sport.  They won in part because of their secret weapon, a winged keel.  Many sailors thereafter thought of wings or winglets as magic, and added them to existing keel.  But that was an expensive mistake, adding wings to an existing design just added area and drag.  Wings and winglets are not magic.
The key to my surfboard fin design, like in sailboat design, would be to reduce the fin to the extent possible, then reduce it a little more, then add small winglets, to make that small fin work better and to generate more lift–side force.
I looked for surfboard science articles.  But there weren't any.  Manufacturer's sites proved of little use in understanding why their fins looked as they did.  They described things not in terms of physics, hydrodynamics, or naval architecture, but with terms that appeared to bear little relationship to science.
I researched and developed, then built and tested many CAD-designed prototypes.  I broke many of these.   At first, I started with a more traditional dolphin fin shape, with big winglets.  I immediately could feel the difference.  I began tweaking, testing, larger, smaller, more raked, less raked, more flex, less flex.  One of the many prototypes rotated the board out from under my feet so quickly I couldn't believe it.
But what really amazed me was how BIG a difference such a small thing, ultimately postage-stamped-sized winglets, could make.  I had other surfers test the fins.  I got the same feedback that I had felt.  And I knew I was onto something.
I ultimately settled on the design for the longboard fin that went into production.  Of course the Wavegrinder fin doesn't look like other fins.  It's so unique that I obtained a patent, patent no. 7,244,157.
Now I am working on a shortboard fin with winglets. I've been through several beta designs. But I've settled on one that I'm really happy with. I hope to go into production soon. See more about the shortboard fin.
Yes, I don't have a sponsored pro surfer.  One day maybe I can afford that.
The chief features of the Wavegrinder surfboard fin with winglets that distinguish it from other surfboard fins:
Hydrodynamically engineered, and CAD designed from lessons learned from NACA, NASA, Boeing, America's Cup and NASCAR
NACA double-zero foil shape (to prevent stalling during turns)
High aspect ratio planform (upright and narrow to maximize lift per square inch of surface area)
Low sweepback angle (rake)
Short fin base (to decrease interference drag while maximizing fore-and-aft adjustability in the fin box)
Bulbous forward fin projection at the fin base (to minimize interference drag like ships' bows)
Cutaway at the fin base (to decrease interference drag)
Lexan polycarbonate (the same material used in bulletproof glass and fighter-jet canopies)
And, of course, winglets (to prevent stalling during turns, and to make the immersed surface area more efficient)
Winglets work for NASA, airplanes, sailboats, spaceships, and race cars.  They'll work for you too.  The Wavegrinder is different. By design.
no images were found